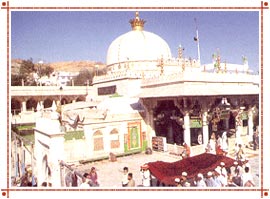 Raja Ajay Pal Chauhan built the city of Ajmer in the seventh Century. Till the 12th Century, this city remained the main center of the Chauhan dynasty. Thereafter, the city was taken over by Mohammed Ghauri. Afterwards, Ajmer served as the abode of the Mughal emperors also. Later, the Scindias ruled over the city in the 19th Century, before handing it over to the British. Read on this Ajmer City Guide to further explore this holy city:
The city of Ajmer Sharif in Rajasthan, India lies to the south west of Jaipur. Ajmer travel & tourism is mostly famous as a pilgrimage. Both Hindus as well as Muslims look upon this city with great reverence. The most famous pilgrim center in the city is the Dargah (memorial) of the great Sufi saint Khwaja Moin-ud-din Chisti. He came from Persia and spent his whole life to improve the lives of the destitute and downtrodden communities.
Another thing the city is famous for is its esteemed and highly impressive Mayo College, exclusively for boys. The school was set up by the British, during their rule over India. Other attractions of the city include the massive Taragarh Fort, Adhai-Din Ka Jhonpra (an old mosque built in 2.5 days only), the picturesque Ana Sagar Lake, etc. Ajmer also serves as the station for those visiting Pushkar housing the only temple of Lord Brahma in India. In brief, we can say that Ajmer is a city rich in culture and tradition.