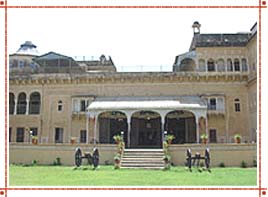 Shekhawati, meaning the garden of Shekha, derives its name from Rao Shekha, its former ruler. Situated in the Delhi-Bikaner-Jaipur triangle, Shekhawati is a semi desert region in north Rajasthan. Known as the "Open art gallery of Rajasthan", this region is mainly famous for its amazing havelis richly painted and decorated. These havelis of Shekhawati in Rajasthan, India were built by the wealthy merchants of the past. They served as a measure of the prosperity and success of the merchants. The grander the haveli, the more prosperous the merchant was believed to be.
This Shekhawati city guide will help you in further exploring this area.
There are numerous havelis in Shekhawati, some of them dating back to the 18th century. They are in rich artistic tradition and the latest one were built in the early 20th century. From painted murals to carvings to mirror work, these havelis have their walls and ceilings adorned with numerous forms of fine art. The frescos of the some havelis even depict mythological themes as well as images of huge animals. With the passage of time the themes changed. Some havelis have frescos showing the arrival of the British and some others highlight steam locomotives and train.
Apart from the havelis, other highpoints of Shekhawati travel and tourism include forts, minor castles, mosques, step wells (baoris) and royal cenotaphs (chattris), etc. There are also a number of excursion places near Shekhawati that add to the tourist appeal of the region. A visit to Shekhawati will take you back to the bygone era of the city. The massive havelis, beautiful paintings and other amazing monuments will make your trip worthwhile.