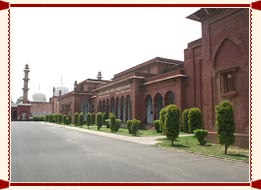 Aligarh Muslim University is one of the premiere educational institutions not only in India but also in whole of Asia. In fact, Aligarh Muslim University is the second largest Muslim University in the world behind the world famous and renowned Al Azhar University in Cairo. The university has been home to students from as many as 60 countries in certain years.
The University was the brainchild of Sir Syed Ahmad Khan who felt that it was important for Muslims to gain a modern education and become involved in the public life. One Raja Jai Kishan helped him in his endeavor. The move was initiated to come in terms with the British decisions to replace the use Persian in the 1830s for Government employment and as the language of Courts of Law. Sir Syed maintained that there is a need for the Muslims to acquire proficiency in the English language and "Western Sciences" to come in terms of the changing reality.
In 1875, Sir Syed founded the Mohammedan Anglo Oriental College in Aligarh. His objective was to build a college in tune with the British education system but without compromising its Islamic values. It was one of the first purely residential educational institutions set up either by the Government or the public in India. Over the years it gave rise to a new educated class of Muslims who were active in the political system of the British Raj, and who would serve as a catalyst for change among not only the Muslim population of India, but of the entire subcontinent
In the year 1920, the College was transformed into a university, and it was named Muslim University. Today AMU is a residential academic institution offering more than 250 Courses in traditional and modern branch of Education. Currently the University has almost thirty thousand students, and over two thousand faculty members with over eighty departments of study.