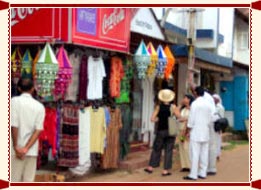 Aligarh is one of the most famous commercial centers in North India. Although the city has become synonymous to locks, Aligarh has much more to offer to its visitors. Nevertheless, locks manufacturing and export remains the lifeline of the city.
The lock industry of Aligarh is very old and traces its history to the era of Moguls. The industry got a major boost in the times of British rule. It were British who streamlined the lock industry that was once very unorganized. The city produces numerous types, kinds and size of locks that can be bought. The major market places in Aligarh are Railway Road Market and Center Point Market.
Another famous products that can be bought in Aligarh are Brasses. Brass Sculptures are hot among the tourists visiting Aligarh. These sculptures are finely cast and come in all kind of shape and size. Do buy a few suiting your luggage. Aligarh is also famous for its 'Aligarh Pajamas'. These dress materials are of fine qualities and have no parallels in India at all.