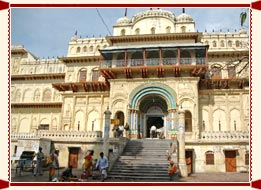 Ayodhya boasts of various tourist attractions that are uniform scattered all over the town. Almost all of these are religious attractions and are frequented by scores of pilgrims every year. And contrary to the popular belief, a sizable numbers of those who visit Ayodhya include Janis.
Hanuman Garhi
Hanuman Garhi temple is easily approachable from the rest of Ayodhya as it is situated right in the center of the town. The temple is a must visit during your trip to Ayodhya. The temple is an important site both in terms of religion as well as architecture and is thus hot among the tourists visiting Ayodhya. Hanuman Garhi is a massive structure in the shape of a four-sided fort with circular bastions at each corner.
Jain Shrines
Ayodhya is not only the birthplace of Lord Rama but is also held on high esteem because of its association with Jainism as a religion. Several followers of the Jainism faith from all over India frequent Ayodhya every year. This is because of the fact that there are several Jain temples in Ayodhya. It is believed by the followers of Jainism that Ayodhya is the birthplace of as many as 5 of his Tirthankaras. These Jain temples mark the place where these Tirthankaras were born. It is said that Kesari Singh, the treasurer of Nawab of Faizabad, built 5 separate shrines to mark the birthplace of these Tirthankaras. The temples bear the date of Vikram samvat 1781.
Kanak Bhawan
Kanak Bhawan is another important temple in the city of Ayodhya. Situated near Hanuman Garhi, Kanak Bhawan is frequented by scores of tourists every year. The Temple is famous for the images of Sri Rama and Sita wearing gold crowns. Because of this very reason, it is also popularly referred to as Sone-ka-Ghar at times.
Nageshwarnath Temple
The temple of Nageshwarnath is one of the most frequented temples in Ayodhya. The temple stands tall amidst numerous 'Matths' and 'Akhadaras' that exist in the city of Ayodhya. Nageshwarnath Temple is supposed to be established by Raja Kush, the younger son of Lord Rama. The festival of Shivaratri is celebrated here with great pomp and splendor.
Ramkot
Nothing apart from Ram Janambhoomi in Ayodhya is as mesmerizing as Ramkot. The place evokes same sentiments and emotions among the followers as Ram Janambhoomi. In fact, it is the most frequented religious site in Ayodhya. This is precisely because Ramkot is the site of the ancient citadel of Ramkot that stands on an elevated ground in the western part of the city. The place marks the site of Lord Ram's fort that once existed.