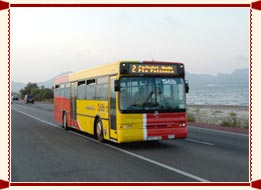 Ayodhya being and important religious center is well connected to the rest of India through various means of communication. The birthplace of Lord Rama still remains one of the most visited religious destinations in India.
By Air
The nearest airport from the town of Ayodhya is in Lucknow. Lucknow airport is 140 odd Kilometers from the city. Lucknow being capital of Uttar Pradesh is well connected to the rest of India through a range of flights operated by various public as well as private carriers. From Lucknow, one can easily hire a cab or take a train to Ayodhya.
By Rail/Train
Both Ayodhya as well as Faizabad stations cater the city of Ayodhya. Faizabad falls on the busy Mughal Sarai- Lucknow line of North-Central Railway and is thus well connected to most of the towns in India and Uttar Pradesh. Regular Super fast and express trains are available to cities like New Delhi, Agra, Lucknow, Varanasi and Mumbai.
By Road
Ayodhya is well connected to other important towns in Uttar Pradesh through a good network of National as well as State Highways. Uttar Pradesh State Road Transport Corporation as well as other private players plies buses to and from Ayodhya.