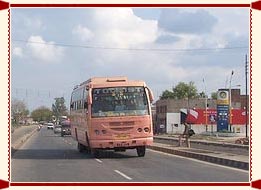 By Air
The nearest airport from Bareilly is New Delhi that is 250 odd Kilometers. New Delhi has both international as well as domestic airport that is well connected to a range of cities in India and world. Several public as well as private carriers offer their service to and from Delhi. From Delhi, one can either hire a cab or take any train to Bareilly.
By Rail/Train
Bareilly falls on the busy Delhi-Kolkata line and is therefore well connected to most of the destinations in Uttar Pradesh and India. The main railway station in Bareilly is Bareilly Cantonment Junction. The junction is well connected to cities like New Delhi, Agra, Kanpur, Lucknow, Benaras, Jaipur, Kolkata and Mumbai through a cluster of super fast and express trains.
By Road
Bareilly is well connected to cities in Uttar Pradesh and around through a network of National and State Highways. The city has regular buses to destinations like Jaipur, Agra, Mathura, Ghaziabad, New Delhi, Lucknow and Varanasi. Both Uttar Pradesh State Road Transport Corporation as well as private parties ply buses to and from the city.