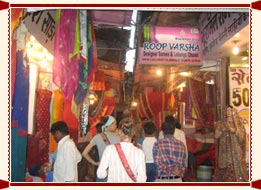 Bareilly is one of the most important commercial towns in India. Therefore it is not surprising that the city offers a range of product for the visitors to buy. These products can be bought at various places including plush malls that are coming up every year. As far as pricing is concerned, traditional bazaars such as Moufassil and Sadar are your best bets.
Bamboo products are your best bet in the city of Bareilly. Almost wherever you go in the city, you are ought to find some or other shop selling bamboo products. In fact, Bareilly is also sometimes referred as Bans-Bareilly (Bans in Hindi means Bamboo). Do buy a few decorative and handicraft item. Bareilly is also famous for its camphor industry. In fact, Bareilly is the largest producer and exporter of camphor in India. Do not forget to buy a few, as they will cost you much back there in Europe and America.
Bareilly is also famous for its Surma (Kohl). Kohl from the city of Bareilly is exported all over India and world. Do keep a few sashes before leaving town. Apart from that, Bareilly is famous for its furniture manufacturing all over the world. You can order for the shipments of any of the beautiful wooden furniture that catches your fancy.