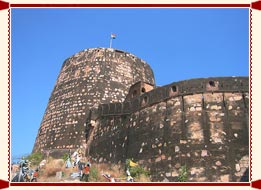 Jhansi is an important tourist destination in Uttar Pradesh and is known for its insight in to the life and History of the Bundelkhand region. The place has also gained prominence because of its relation with Jhansi ki Rani, Lakshmi Bai and the Great Sepoy Mutiny of 1857. The city offers quite a few attractions that are a must visit for every tourist. These are as follows: -
Jhansi Fort
Jhansi Fort is not only one of the best-fortified areas in Uttar Pradesh but also one of the best fortified in India. Raja Bir Singh Deo of Orchha commissioned this fort in the early 17th century. The fort was earlier built on the top of the hillock in order to act as an army stronghold and garrison but was later modified in to residential quarters.
Jhansi Museum
The Jhansi museum is located in the Jhansi Fort itself. The Jhansi museum is a not-to-be-missed tourist destination in Jhansi. The museum not only gives an insight to the history and heritage of Jhansi but whole of Bundelkhand region. The museum also gives a deep insight in to the life of Chandela dynasty. Among others, The Jhansi Museum houses weapons, statues, dresses and photographs that represent the Chandela dynasty.
Rani Mahal
Rani Mahal of Jhansi was actually the palace of Lakshmi Bai, Rani of Jhansi. The palace of Lakshmi Bai has now been converted in to a museum that treasures the memory of Rani Lakshmi Bai as well as the archeological remains of 9th to 12th century that has been excavated and unearthed recently.