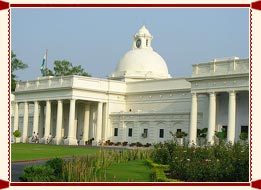 Meerut is an important tourism destination in Uttar Pradesh. The city boasts of some very important historical as well as cultural heritage sites. These sites are scattered all over the town and therefore they can only be covered via private cabs. Following are some of the most important sites in Meerut.
Sardhana
Sardhana is situated 20 kilometers from the Meerut Town. The place Houses a famous Catholic Church built in the year 1822 by Begum Samru. Tradition has it that Sarkat, a Raja, founded the place and remained in the possession of his descendants till the advent of the Muslims. In 1778 Walter Reinhardt was assigned the Jagir of Sardhana but on his death in the same year the estate passed into the hands of his widow, Begum Samru. Begum Samru also Called Begum Sombre and had nicknames such as Zebunissa, Farzana and Joanna, started her career as a Nautch girl in 18th century India. Later on, she played a very crucial role in the politics and power struggle in 18th and 19th century India.
Hastinapur
Hastinapur is the ancient capital of Kaurvas rulers of Hindu Epic Mahabharata. The place however is more famous for its Jain Temples these days. Acharya Kharatargatchh has described 4 stoops (pillars) at the time of his visit. The Shwetambar temple is renovated recently. The establishment of Digambara Temple followed it. Gurjar king Nain Singh renovated Digambara Jain Bada Mandir and Old Pandeshwer Temple. There is also Pandeshwer Temple. It is actually an old temple of Lord Shiva, situated in the ruins of old Hastinapur.
IIT Roorkee
The Indian Institute of Technology Roorkee (IIT Roorkee) is located just 70 Kilometers from Meerut. Instituted as Thomason college of Civil Engineering in year 1847 by British, it was re-christened as University of Roorkee in year 1949. It is acclaimed for its fine quality of academia and for producing brilliant engineers. IIT Roorkee is one of the premier institutes across the world and is a frontrunner in higher technological education and in basic and applied research. The institute celebrated its sesquicentennial anniversary in October 1996. On September 21, 2001, an ordinance issued by the Government of India declared it as the nation's seventh Indian Institute of Technology. The ordinance was converted into an act by the Parliament to make IIT Roorkee an "Institution of National Importance".