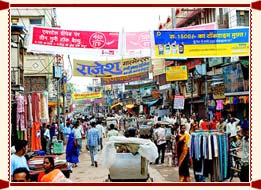 Meerut is one of the most famous commercial centers in the Northern part of India. The city for long has been a major center of Agriculture, Engineering and Smelting works. The city is the largest supplier of agriculture equipment in India. Hans Engineering works is the largest player. A visit to its workshop at Surajkund Road is worth it.
Apart from that, Meerut is the largest producer of musical instruments in the country. Do buy a few good ones as the same instruments when exported to Europe and America cost quite a sum. Meerut is also one of the major suppliers of sports goods in the world. It ranks among the top cities producing and exporting sports goods in Asia. Do buy a good pair of Studs; it's a steal.
Meerut is well known for its sweet shops. The city is famous for its 'Revri' and 'Gazak'. Gokul Revri Shop at the Budhana Gate area is the most famous joint in the town. Do taste its mouth melting stuff during your visits.
Meerut had have an image makeover in recent years that has led to a sudden spurt in number of modern Malls and commercial complexes all over the city. These are the best place for shopping along with traditional bazaars.