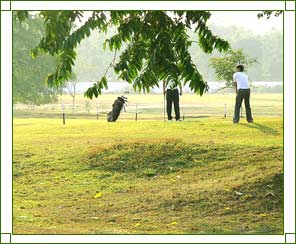 Location:
15 km from Margherita, Digboi
Built in:
1888
Amidst the vast expanses of dense forests and exquisite tea estates lies the 18-hole golf course of Digboi, considered to be the best golf course in the whole of Upper Assam. Every year, tournaments, at both national and international level, are played here and people come from all over the country to enjoy or take part in the events. The whole course stands over a huge 6309 yards of land and is considered to be one of the biggest in the northeast India.
Digboi golf course is situated amid beautiful natural settings, bordered by the Deihing Forest Reserve on three sides. It is from the fourth side that a splendid view of the mountains of Arunachal Pradesh can be seen. Dehing Forest Reserve, on the other hand, is the abode of a wide variety of flora and fauna. Animals like wild elephants, barking deer, parakeets, hornbill birds, wild boar, leopards and several varieties of snakes, inhabit the reserve and can often be seen wandering out onto the course.
Digboi golf club offers a complete enjoyable experience to the golfers as well as the other people who come to visit it. Rooms are available at very reasonable charges in a small clubhouse, situated just adjacent to the golf course. There is also a bar located within the clubhouse and people often come here to relax and to take a break from the monotonous routine of daily life. The club also has facilities for indoor games, a swimming pool and a restaurant offering a range of local delicacies. However, overnight stay is not allowed at the club house.
Among the numerous tournaments held at Digboi golf course, the ones worth mentioning are the All Assam Amateur tournament and the Servo Masters, which is the only professional golf tournament held in the entire northeast India. The maintenance of the club is being looked after by the Indian Oil Corporation of Digboi, who see to it that the world class standards of the club are preserved, be it in terms of the gold course, the ambience or such other amenities.