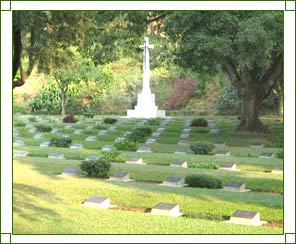 Location:
About 1.5 km from the Indian Oil Centre, Digboi
Digboi town is located in the north-eastern corner of Assam, on the road to Ledo, near the border of Burma. Just 1.5 km from the Indian Oil Centre, on the road to the Pengaree Tea Estate, lie the remnants of the most dramatic event that took place in the history of Digboi, during the Second World War. The World War II started in September 1939 and became a global military conflict, involving a majority of the countries in the world. Approximately sixty million people died as a result of the war, twenty million of which were soldiers and the rest were civilians.
During the war, the state of Assam, situated in the north-eastern zone of India, served as an operational area of the Burmese campaign. The town of Digboi, situated near the Burmese border, was on the lines of communication and a military hospital was established in the area, for the purpose of treating the war casualties. Digboi War Cemetery was initially started for the burials from the hospital. By the end of the war, a total of 70 burials had been recorded. Later, Army graves were also transported from the graveyards in Panitola, Jorhat, Ledo, Margherita and Tinsukia, to Digboi.
Maintenance of graveyards in Panitola and other areas was becoming a major problem, so the graves were transferred to Digboi. Graves were also transported from the US Military Cemetery at Shingvuoiyang, Burma. As a result, a large collection of corpse accumulated on the small spur of land rising from the main road, near the hospital. However, due to the earthquake in 1950 and the subsequent landslides caused by heavy rains, it became necessary to shift the cemetery to a place which would not be affected by erosion. The cemetery was hence shifted to the present site i.e. 1.5 km from the Indian Oil Centre.
Looking at the thousands of burials over this vast expanse of land, one can imagine the horror of the war that took place about 70 years ago. A sense of worship and respect automatically comes to the heart of the people when they come to pay obeisance to the war heroes at the cemetery. The cemetery now has around 200 burials of the Second World War. This cemetery is a historical place where thousands of brave soldiers are resting in peace. On every second Saturday of November, a prayer ceremony is held to remember the brave souls and verses from Holy texts, like Bible, Gurugranth Sahib, Geeta and Koran, are read. A visit to this place is essential to pay homage to the valiant people who lost their life during World War II.