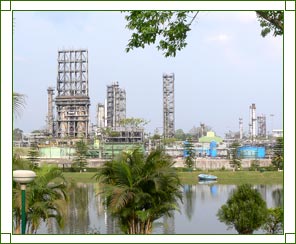 Location:
Digboi
Built In:
1901
Digboi Oil Refinery is one of the oldest oil refineries in the world which is still in operation, with a massive capacity of about 0.65 MMTPA. The history of Digboi dates back to the year 1869, when some men from the Assam Railway and Trading Company found the legs of their elephants soaked in black mud, which smelt somewhat like oil. Further exploration and investigation finally led to the establishment of a small oil installation in the area, by the British, in 1889.
The AOC (Assam Oil Company) was formed in the year 1899, for the smooth running of the oil business in the state and the first refinery in the country was constructed in Digboi in the year 1901. The refinery became a part of the Indian Oil in 1981, which created a separate division for both the refinery and marketing operations. During the e Second World War, the oil field produced almost 7000 barrels of crude oil per day. It was pushed to produce so much with little regard to the reservoir management, with the result that the production started dropping towards the end of the war.
To overcome these technological problems, a modernization project was undertaken by the company. This was a major attempt to refurbish and modernize the refinery. This was followed by a number of other major projects, like the Wax Hydro-finishing Unit (WHU), the Solvent Dewaxing or Deoiling Unit (SDU) and the Vacuum Residue Short Path Distillation (VRSD). The refinery also installed Hydrotreater to improve the quality of diesel. As a result, its refining capacity increased from a meager 0.5 MMTPA (million metric tons per annum) to the present capacity of 0.65 MMTPA. Due to such continuous efforts, the refinery has been awarded the ISO -14001 and OHSMC certificate.
Digboi refinery is now the present headquarters of the Assam Oil Division of the Indian Oil Corporation Limited. The refinery produces distillates, heavy ends and excellent quality wax from indigenous crude oil produced at the oil fields of the state. The petroleum products are primarily supplied to the north-eastern states of the country by means of rail wagons or through road. In the year 1989, the Postal Department of India came out with a stamp commemorating 100 years of Digboi fields.
The oil field in Digboi has become a very famous tourist spot of the state. This refinery is mostly considered as an oil museum and has a wildlife sanctuary situated just adjacent to it. Every year tourists and travelers come to this part of Assam to enjoy the beautiful natural setting of this refinery.