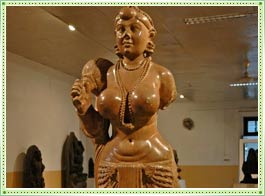 Patna Museum was established in the year 1917. The aim behind the establishment of the museum was to impart a scientific vision to understand the evolution of history, culture and art tradition of the land. Patna archaeological museum boasts a huge collection of artifacts found during the excavations of ancient sites in Bihar.
Patna museum has a large collection of sculptures of the Gandhara and the Mathura style art. These sculptures belong to the Kushana period. The Gandhar style sculptures, also known as 'Greeco-Buddhist Art' are made of blue-schist of Swat valley and the collection includes figures of Buddha. Other than Lord Buddha, several statutes of Bodhisattvas have also been kept in the Patna Museum. Patna Museum preserves holy relic casket of Lord Buddha containing his ashes.
Patna Museum houses many historic items found during excavations in different parts of Bihar. Some belong to the pre-historic phase and some are from early centuries of first millennium. Post-excavation, archeologists found many things including some historic objects, stone sculptures, bronzes, terracotta, paintings – miniature and thanka paintings and coins, which all are important to know the history and development of Bihar.
The museum at Patna has some pre-historic objects of great interest including of Palaeoliths, microliths and neoliths. These objects were found from different parts of India. Certain objects like Paleolithic tools found at Bariar (M.P.) and Lalitpur (U.P.), Attirampakkam (Tamilnadu) have also been kept in display in the museum.
The museum also displays sculptures from the Kushana period, which include the famous trio from Devangarh in the Nawada district. Three deities Ekanamsa, Balarama and Vasudeva have been separately depicted here which is unconventional and not found anywhere else. Other than these, the museum also has three images of Avalokitesvra, Maitreya and Buddha in bhumisparsh posture. These images were excavated from Vishnupur of Gaya districts. There are some door frames with the figures of Ganges and Yamuna depicted on the sides of them.