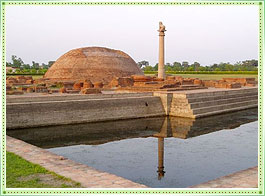 Vaishali was an important center of trade and commerce in ancient times. There are two stupas in Vaishali, which, according to Buddhist literature, enshrined Lord Buddha's ashes. Like Rajgir, Vaishali too is important for Buddhism and Jainism. The 24th Tirthankara of Jainism, Lord Mahavira, was born and stayed for a considerable period of time at Vaishali. Let's have a look at various tourist attractions of Vaishali.
Budha Stupa-I
Stupa-I is a major tourist attraction at Vaishali. Though decadence, it was once a grand structure. After excavation and corroboration it has been established that this stupa enshrined one eighth of the sacred ashes of Lord Buddha in a stone casket.
Ashokan Pillar
Ashoka the great of Maurayan dynasty was a staunch follower of Lord Buddha. To show his gratitude to Lord Buddha and Buddhism he built a Lion Pillar at Kolhua. He chose Kolhua for it was the spot where Lord Buddha gave sermon for the last time. This 18.30 meter high pillar is well polished single piece red sandstone and stands alone. On the top is capital in a bell shape accompanied by a life-size figure of a lion.
Budha Stupa-II
The numbering of these stupas has been done on the basis of their time of excavation. This stupa was excavated in the year 1958 and post-excavation archeologists found that this too enshrined a casket which contained the ashes of the Lord Buddha. Now in dilapidated form, it attracts tourists particularly Buddhists from all over the world for its historical link with Lord Buddha.
Bawan Pokhar Temple
Vaishali was not only associated with Buddhist and Jain religion but also Hinduism. The later kings of Pal dynasty built the beautiful Bawan Pokhar temple which houses numerous Hindu god and goddesses. Being located on the bank of Bawan Pond it derived its name Bawan Pokhar Temple.
Abhiskek Pushkarn
Vaishali was a democratic republic and elections were held for choosing the leadership. As the water at the pond was believed to be sacred and full of divinity, those who would get elected would come to take bath at this pond, and this ritual continued for long at Vaishali.
Kundalpur
Located four kilometers away from the center, Kundalpur was the birth place of Lord Mahavira. Lord Mahavira was the twenty fourth tirthankara of Jain religion. Being his birth place he spent a significant portion of his life at Kundalpur, which makes it an important pilgrim destination for Jain devotees.
Peace Pagoda or Shanti Stupa
The peace Pagoda spread in ten acres was constructed under the wish of Fujii Guruji, a Japanese Buddhist. This 38 meter tall pagoda has a 20 meters dome and enshrines Buddhist relics inside it. Meant for world peace and harmony, the world pagoda is a major tourist attraction at Vaishali.
Fort of King Vishal
Though now in unidentifiable position, and in the form of a mound, the fort of mythological king Vishal is a curious attractive spot at Vaishali. Popular belief has it that the spot was the gathering center of council members of Vaishali where councilors would elect their representatives and talk policies and statecraft.