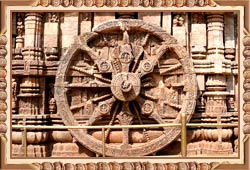 Location:
Northern side of the Sun temple
Founded In:
1968
Highlights:
It houses different kinds of antiques
Located on the northern side of the Sun temple, the Archaeological Museum of Konark houses a large variety of antiques. The museum comprises of four galleries that exhibit nearly 260 antiquities, gathered from the complex of Sun Temple. This marvelous museum of archaeology was established in the year 1968 and boasts of a number of galleries. The first gallery has a collection of the fallen sculptures retrieved from the famous Sun temple.
The embellished sculptures of Hindu Gods and Goddesses are simply amazing. You can also find the stone sculptures portraying wedding scenes, various incarnations of Lord Vishnu, etc. The second gallery of the Archaeological Museum of Konark displays several cult objects, such as carvings of flora and fauna on stones, celestial nymphs, etc. The third gallery has an awesome collection of objects that exude superb craftsmanship.
It houses the images of Sun God, Narayana, Gaja-Vyala and some pictures of king with his battle troop. The fourth gallery has a vast collection of artifacts that are put on display in showcases. It consists of objects like a roaring lion, king enjoying dance performance, salabhanjikas, swans with garlands, etc. The corridors of the museum are adorned with pictures of ancient monuments and other prominent sites that portray the evolution and development of architecture in Orissa.