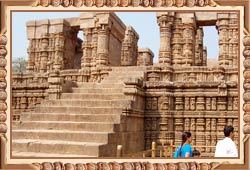 Konark is one of the popular cities of Orissa, which is located at a distance of approximately 34 km to the north of the holy city of Puri. The city derives it names from 'Konarka', the presiding deity of the famous Sun Temple located there. People coming to South India definitely include a visit to Konark in their itinerary. Apart from its own tourist attractions, the city also boasts of a number of magnificent excursions. Read on to know more about the famous tourist places near Konark.
Gopalpur on Sea
If you want to take a break from the hustle bustle of city life, then Gopalpur-on-sea Beach is just the place for you. Lying at a distance of 16 km from Berhampur, this lovely beach provides a breathtaking view of the serene surroundings. More
Bhubaneswar
Bhubaneswar, the capital city of Orissa, is situated in its eastern side. The city boasts of majestic temples and shrines, which form a major part of its tourist attractions. It serves as the perfect example of the fusion of age-old customs and traditions and modern aspirations. More
Puri
Puri, known as the dwelling place of Lord Jagannath, is one of the most visited tourist destinations of India. It is situated on the eastern side of Orissa and lies about 60 km away from the capital city of Bhubaneswar. The major attractions of the city comprise of its marvelous temples and gorgeous beaches. More
Kuruma
For those interested in archaeology, Kuruma serves as an interesting excursion from Konark. It is basically a small village that is situated at a distance of about 8 km from the city. The place is well known for its Buddhist architectural heritage.
Kakatapur
Kakatapur is a small town, located at a distance of 45 km from the Konark city. It is a popular pilgrim destination of Orissa and houses a number of shrines. Among them is the temple of Goddess Mangala and Ranadurga.
Chaurasi
Those who are planning to visit Konark for spiritual purposes must visit the shrines of Amareswara, Laximinarayana and Barahi, situated in Chaurasi. The deity of Barahi, the Mother Goddess with the face of a boar, dates back to 9th century. The Goddess is shown with a fish in one hand and a cup in another. It is said that this image is mainly worshipped for Tantric practices.