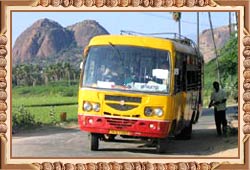 Konark is one of the most prominent cities of Orissa. It is very famous tourist destination, especially for those who are traveling to the southern part of India. However, for reaching the city, one needs all the information regarding the various modes of transport with which it is connected to the rest of the country. There will hardly be any problems in getting to Konark, as the city is well linked by air, rail as well as road. Given below is detailed information on 'how to reach' Konark.
By Air
The airport at Bhubaneswar serves as the most convenient point for entering into the Konark city. There are a number of flights that operate on a regular basis and connect Konark with major cities of India, like Kolkata, Delhi, Hyderabad, and Chennai.
By Rail/ Train
The railway stations nearest to Konark are located in the twin cities of Puri and Bhubaneswar. These stations are linked with almost all the major destinations in India by train. Thus, traveling to Konark via train is totally hassle-free.
By Road
There is an extensive network of roads in Konark, which connects it with the rest of the country. The National highways and State highways link the city with Puri, Bhubaneswar and other cities in Orissa as well as the neighboring states.