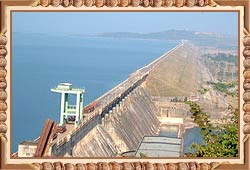 Location:
15 km to the north of Sambalpur
Significance:
Longest dam of the world
Hirakud dam was the first post independence river valley project in India. Situated at a distance of 15 km to the north of Sambalpur, it holds the distinction of being the longest dam of the world. It is a complex structure built across the river Mahanadi and was formed for the purpose of irrigation and flood control. Hirakund dam is about 4.8 km long, bordered by earthen dykes on its left as well as right. Along with the dykes, the length of the dam increases to 25.8 km. the storage capacity of Hirakud Dam is 5818 m.
Stretching over an area of 743 sq. km, the reservoir serves as one of the biggest artificial lakes in Asia. The 21 km long stretch along the dyke provides the perfect locale for going on a long drive. Enjoy the scenery of the mighty Hirakud dam and rest assured that you will be fascinated with the larger-than-life image that the Hirakund dam offers. A revolving minaret at the top of the dam, known as the Gandhi Minar provides a lovely scene with its vast expanse of water.
The Hirakud dam was constructed to regulate the even flow of the Mahanadi River in Orissa. Before the dam was built, the area used to have droughts in the lower basin and violent floods in the upper plain regions. With the construction of this dam, this problem was put to an end as it was possible to regulate the flow of water in the desired area. Along with this, the dam also produces hydro electricity, thus making judicious use of natural resources as well as technology.