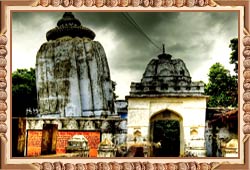 Location:
23 km from Sambalpur
Founded In:
1670
Dedicated To:
Lord Shiva
Huma temple, situated near Sambhalpur, was established in the year 1670. It is believed that the temple was built by the King Baliar Singh, the fifth king of the Chauhan dynasty of Sambalpur. It is popularly known as the Leaning Temple of Huma, as it does not stand upright and is tilted towards one side. Infact, almost everything within the temple complex is skewed. The temple is located on the banks of Mahanadi River, at a distance of about 23 km from the Sambhalpur district of Orissa.
The temple is dedicated to Lord Shiva, one of the Gods forming the Hindu Trinity. There is an interesting legend behind the construction of the Huma temple. People say that there was a milkman, who used to go across river Mahanadi to worship Lord Shiva. He used to offer milk to the Lord everyday. One day, to his surprise, the rock idol consumed the milk offered by the milkman. This miraculous incident paved way for the construction of temple. During Shivratri, a grand fair takes place at the Huma temple.