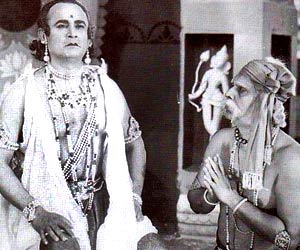 Bengali cinema has always been parallel to the Hindi film industry, in terms of both talent and technology. The history of the cinema is very old. The first "bioscopes" were shown in Kolkata theatres as far back as 1890s. The seeds of Bengali cinema were sown by Hiralal Sen during this phase only, when he set up the Royal Bioscope Company. His legacy was further carried by Dhirendra Nath Ganguly, who set up Indo British Film Company in 1918.
In 1919, under the banner of Madan Theatre, the first Bengali feature film - 'Billwamangal' was produced. It was a silent film by Rustomji Dhotiwala, in black and white. After 'Billwamangal', Bengali cinema never looked back. Based in Tollygunge, an area of South Kolkata, the film industry is popularly known as Tollywood. The trend of 'talking movies' began in 1930, with Jamai Shashthi (1931) being the first Bengali film with dialogues.
By 1950, Bengali cinema was as the peak of its popularity. During this time, Uttam Kumar and Suchitra Sen were the most hyped pair of the film industry. This pair ruled Bengali cinema for more than a decade, till Suchitra Sen backed out from the industry, due to some medical issues. Uttam Kumar kept shining on the Bengali silver screen, till his sudden death in 1980. Based in Tollygunge, an area of South Kolkata, West Bengal film industry is known as Tollywood.
Bengali cinema has also made significant contribution towards Indian film industry. Apart from Satyajit Ray, directors like Bimal Roy, Ritwik Ghatak, Mrinal Sen, Aparna Sen, Rituparno Ghosh and Gautam Ghosh have immensely contributed towards meaningful cinema in the country. Majority of these directors have also undertaken a small stint in Bollywood, the biggest film industry of India, and proven their mettle there.
Today, Bengali film industry has emerged as a completely independent and intellectual entity. Known for its melodious music and spell-bounding scripts, it has classics like 'Pather Panchali', 'Devi', 'Jalsaghar', 'Devdas', 'Neel Akasher Neechey' abd 'Meghe Dhaka Tara' to its credit. Bengali cinema has about a 340-million-strong Bengali audience today, spread in Bangladesh, West Bengal, Tripura and Assam. About 30 Bengali films release every year.