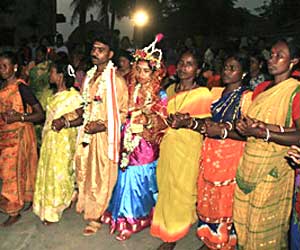 A discussion on the culture of West Bengal is incomplete without the mention of its tribal population. There is a variety of tribes found in almost all the nooks and corers of the state, which add a beautiful flavor to its culture. About 38 in number, the tribes comprise nearly 2% of the entire population of West Bengal. They are, in general, confined to the rural belt of the state. However, a small portion of this population has now moved to the urban belt, in search for employment and a better lifestyle.
The religious beliefs amongst Bengal tribes are quite varied. Nearly 3/4th of the tribal sect is made up of Hindus, while the rest are generally Muslims. A small sect also follows Buddhism. Conversions to Christianity have also gained momentum in last few years. Bauls, Bhuyiya, Santhal, Oraon, Paharia, Munas, Lephcas, Bhutiyas, Chero, Khariya, Garo, Magh, Mahli, Mru, Munda, Lohara and Mal Pahariya are amongst the popular tribes in West Bengal. Almost the tribal people converse mainly in Bengali, with a little variation of regional dialect.
The major festivals of West Bengal, like Durga Pooja, Naba-Barsho and Makar Sankranti, are popular amongst the tribal population as well, though the customs vary a bit. The tribal people of Bengal have a rich cultural heritage. They are renowned for their arts and crafts. Textiles (muslin and silk), terracotta, carpentry, drawing, earthenware, brass-copper ware, needle work, stitching, wooden work and cane works are their specialty. Farming, fishing, carpentry, weaving and hunting are their major employment sector.
The tribes in Bengal are also known for their mouth-watering cuisine and warm hospitality. For instance, Bhutiya tribe is known for its mouth watering beef and pork dishes. Its momos, thupka noodles and butter tea are also very popular worldwide. Mru Tribal community is also known for its extremely delicious dishes. Community fests (known as 'Bhoj'), dancing and music are very popular amongst the tribal people. In fact, the tribes in West Bengal delight others with their cheerful combination of the festivals, food and music.