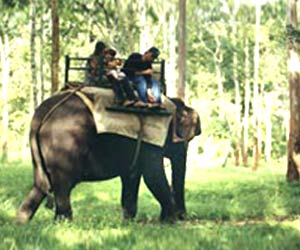 Location:
Alipurduar sub-division of Jalpaiguri District (West Bengal)
Home to a large number of wildlife and plants species, Buxa National Park is one of the most interesting places in Jalpaiguri, for travelers with an adventurous mindset. Sprawling over acres of land in the Alipurduar sub-division of Jalpaiguri district in West Bengal, Buxa Tiger Reserve (BTR) is located inside the national park and spreads over 760 square kilometers. While the place shares its northern boundary with the international border of Bhutan, the Sinchula hill range lies all along the northern side of BTR and the eastern boundary touches the state of Assam.
With Phipsu Wildlife Sanctuary of Bhutan lying on its north and the Manas National Park on the east, Buxa Tiger Reserve serves as international corridor for elephant migration between India and Bhutan. The reserve encompasses as many as eight forest types, including Northern Dry Deciduous, Eastern Bhabar and Terai Sal, East Himalayan Moist Mixed Deciduous Forest, Sub-Himalayan Secondary Wet Mixed Forest, Eastern Sub-Montane Semi-evergreen Forest, Northern Tropical Evergreen Forest, East Himalayan Subtropical Wet Hill Forest, Moist Sal Savannah, Low alluvium and Savannah Woodland.
Flora
Buxa National Park is extremely rich in flora and boasts of being home to various species of plants. There are about more than 300 species of trees, 250 species of shrubs, 400 species of herbs, 9 species of cane, 10 species of bamboo, 150 species of orchids, 100 species of grass and 130 species of aquatic flora, including more than 70 sedges (Cyperaceae), in the park. Apart from this, there are more than 160 species of other monocotyledons and ferns. The main species constitutes trees like Sal, Champ, Gamar, Simul, Chikrasi.
Fauna
The rich flora of Buxa National Park sets the stage for a flamboyant variety of fauna. The reserve boasts of 390 species of birds, 73 species of mammals, 76 species of snakes and 5 species of amphibians. As per a survey conducted in the year 2006, it is believed that Buxa Tiger Reserve has the highest number of fish species in the entire North Bengal region. While tigers are the prime attraction of the reserve, animals like elephants, bears, civets, giant squirrel, gaur, chital, clouded leopard, wild buffaloes, antelope and snakes, including the regal python, are also found here.
The main species of animals found in the Buxa Tiger Reserve include Asian elephant, tiger, gaur, wild boar and sambar. Amongst the endangered species found here, Indian tiger, Asian elephant, leopard cat, Bengal florican, regal python, Chinese pangolin, hispid hare and hog deer are the main focus. Talking about the birds, there are about 230 species of birds and innumerable butterflies that add color and music to the forest. Some of the migratory and endemic birds found herein are pied hornbill, ibis bill, trans-Himalayan migratory goosanders, red-stars, wagtails, the rare black necked crane, migratory common teal, black stork, large whistling teal, minivets, and white eyed poachared.