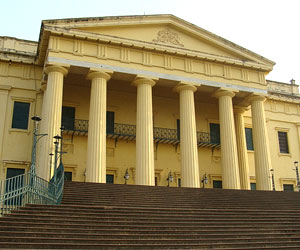 One of the nineteen districts of West Bengal, Murshidabad is primarily an agricultural district, having a rich historical and cultural background. Named after Nawab Murshid Quli Khan, the Dewan of Bengal, Bihar and Orissa, the district is located on the banks of the Bhagirathi. A city of splendors & silk, it was made the capital of West Bengal in 1717. Talking about the tourist attractions, the district of Murshidabad has a lot to offer. The imposing structures in the district display its magnificent and imperial glory. In the following lines, we have provided detailed information on the tourist places in Murshidabad.
Places To See In Murshidabad
Hazarduari Palace
Literary meaning a palace of thousand doors, Hazarduari Palace was once the abode of a Nawab. Built in the year 1830, by General Duncan McLeod of the Bengal Engineers, the palace boasts of a banquet hall lined with mirrors and a circular Durbar Hall. Just as the name says, the palace has about 1000 doors, but only 900 of it are real. Magnificently built, the palace boasts of a striking architecture and arresting interiors. Today a museum, the palace fondly exhibits some of the most outstanding things of the imperial era. More
Katra Mosque
Situated one and a half km away from Murshidabad Railway Station, on the Berhampore-Lalgola Road, Katra Mosque is one of the must-see places in the Murshidabad district. Built by Nawab Murshid Quli Khan, in 1723-24, the mosque flaunts an imposing structure, what with the gorgeous building having huge domes and high minarets.
Kathgola
Kathgola is an important tourist destination in Murshidabad. A palace garden of Raja Dhanpat Singh Dugar and Lakshmipat Singh Dugar, the place is home to the famous Adinath Temple. It lies about half a km southeast of Mahimapur. The temple has a rich religious and cultural heritage. The temple is beautifully ornamented with a typical Jain style that lends a unique beauty to this temple.
Wasef Manzil
Built by Sir Wasef Ali Mirza, Nawab of Murshidabad, Wasef Manzil is a beautiful palace that displays the imperial glory and majestic charm of the yesteryears. Once the residence of Nawab Wasef Ali Mirza, the beautiful palace has now been converted into a museum. Wasef Manzil is located extremely close to the Hazarduari Palace. The beautiful statues of this palace are worth seeing.
Nizamat Imambara
Built by Nawab Nazim Mansoor Ali Khan Feradun Jah, son of Humayun Jah, in 1847 AD, Nizamat Imambara lies parallel to the north face of the Hazarduari Palace. The imambara was first built by Siraj-ud-Doula, but after its destruction in fire, it was again reconstructed. The largest imambara in Bengal and perhaps India as well, Nizamat took about 11 months to be completed.