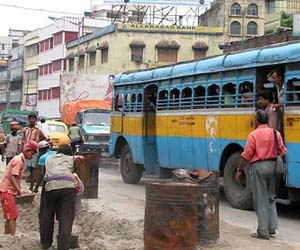 Undoubtedly the best destination to recreate and rejuvenate yourself, Raichak offers you a calm, peaceful and soothing environment. Located on the outskirts of Kolkata on the banks of river Hooghly, this place is sure to mesmerize you and leave you rejuvenated and relaxed. Easily reachable from Kolkata, Raichak serves as the perfect weekend getaway to escape from the hustle and bustle of the city. Raichak is connected to the major modes of transport i.e., air, road and rail. The following lines will help you on traveling to or reaching Raichak effortlessly.
Traveling To Raichak

By Air
Netaji Subhash Chandra Bose International Airport, located in Dum Dum, Kolkata, is the nearest air link to Raichak. Located at 70 km from Raichak, the journey offers some glorious views of the city and river. Major Indian and international airlines operate to and from the airport.
By Rail
Howrah, located at a distance of 56 km, serves as the nearest railway link to Raichak. The railway station is very well-connected to all the major cities in the country. After de-boarding from the train, you can hire a taxi or a bus to reach Raichak.
By Road
For all those traveling hunks, visiting Raichak by road would be a pleasure. The place is at a distance of just 50 km drive from Kolkata, along the river Hooghly. One can catch an air-conditioned luxury private bus plying from Kolkata to Raichak. You can pick the bus from Dharamtala Bus Terminus or Behala Bus Terminus in Kolkata.