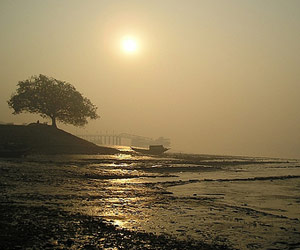 Location:
West Bengal
Summer Temperature:
Max: 40 °C; Min: 30 °C
Winter Temperature:
Max: 27 °C; Min: 10 °C
Best Time to Visit:
October to March
Standing on the banks of river Hooghly, Raichak is an ideal destination for a short break from the chaotic city life of Kolkata. With spectacular views of the river and rows of country boats sailing down, Raichak is a perfect locale to recharge your energies without undertaking a strenuous journey. The weather at Raichak is similar to that of Kolkata. Summers last from April to mid-June and the temperature can reach up to 40 °C.
Winters in Raichak are comparatively pleasant, with the minimum temperature touching as low as 10 °C. The cold season begins in October and continues till March. To experience the rains, visit the place from mid-June to mid-September for enjoyable monsoons. Time periods from October to March are the best months to explore and enjoy Raichak. Indeed, Raichak is rapidly becoming a popular travel destination among the young and old equally.