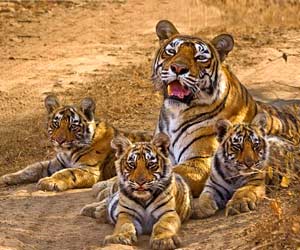 Exploring Sunderbans, the largest estuarine delta in the world, can be a highly thrilling experience. With rich flora and fauna, Sunderbans leaves a lasting impression in the tourist's mind, because it unfolds the picturesque beauty of West Bengal and the bordering country Bangladesh, amidst which it is situated. The Royal Bengal Tigers are sheltered here, attracting tourists from all over the country and elsewhere in the world. Home to a national park and wildlife sanctuary, Sunderbans is definitely a visual treat to the travelers. Nature lovers would be delighted to explore the untamed wildlife in its dense forest. Go through the following lines and explore all about the major tourist attractions in Sunderbans.
Places to See in Sunderbans
Tiger Reserve
The prime tourist attraction of Sunderbans is its tiger reserve, where the great Royal Bengal Tigers are sheltered. There, nature lovers can catch a glimpse of the day-to-day activities of these tigers, from a distance.
Bhagabatpur Crocodile Project
Bhagabatpur Crocodile Project is a hatchery and a sanctuary of Sunderbans. The biggest estuarine crocodiles can be found here, which is the highlighting feature of this tourist attraction.
Netidhopani
Netidhopani is beautified by the mangroves of Sunderbans and the amazing wildlife. Netidhopani is famous for the ruins of a 400-year-old temple, which attracts tourists coming to Sunderbans.
Halliday Island
Located south of Sunderbans Tiger Reserve, Halliday Island is thronged by tourists, every year. The last retreat of the Barking Deer can be found here. Apart from this, travelers can also check out Lothian Island Wildife Sanctuary, which is a must-visit place for bird watchers.
Piyali
Travelers on their way to Sunderbans can stop at Piyali, a beautiful small town, and explore the lifestyle of its inhabitants. It is the best place to chill out, when you are on your way to explore the rich, dense forest of Sunderbans.
Kanak
Kanak is a safe haven for Olive Ridley Turtles, which thrive in its shallow waters and beaches. These turtles, during their breeding season, approach the beaches of Kanak, from distant places located around Sunderbans.