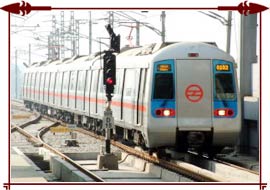 In view of the fast growing population and increasing traffic problems of Delhi, Central Road Research Institute (CRRI) conducted a study in 1970s. It recommended the setting up of a Mass Rapid Transit Network for the city. In the years that followed, numerous studies were conducted and plans were prepared. The ultimate result of all this effort was the commencement of the Delhi Metro Rail. It was set up to provide a solution to the day-by-day rising traffic woes of the city. The train boasts of all the world-class machinery and facilities and is the pride of the capital city
Right now, the Metro Train of Delhi, India is operational on three lines, which are as follows:
Delhi Metro Line One: Shahdara - Rithala
The first line of New Delhi Metro Rail to be operational was between Shahdara and Rithala. This line covers a distance of 22 km and has 18 stations enroute.
Delhi Metro Line Two: Vishwa Vidyalaya - Central Secretariat
The second line to be run from Vishwa Vidyalaya to Central Secretariat got partly operational from 20th December'04. It covers a distance of 11 km and has 10 stations enroute.
Delhi Metro Line Three: Indraprastha - Barakhamba Road - Dwarka
The third line first started operating between Barakhamba and Dwarka Sector 9, covering a distance of 29.29 km and 28 stations. Services between Indraprastha to Barakhambha Road stations were started in November 2006.
The services of the Metro train of Delhi start from 6am in the morning and the last train leaves the station at 10pm in the night. During the rush hours, the frequency of trains is set at 4 min. there are plans to make the Delhi Metro Rail system more accessible to people by providing feeder buses to the stations. Also it has been planned that by 2010, when the Commonwealth Games come to India, the New Delhi Metro Rail system will not only cover most parts of Delhi but also cross the borders of Delhi joining NOIDA, Ghaziabad and Gurgaon.