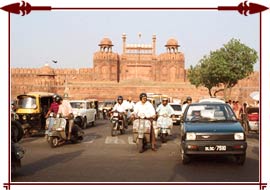 The local transportation is the lifeline of the capital city of New Delhi. More than half of the population in Delhi is dependent on local transport for commuting purposes. The means & modes of transport in New Delhi are many, ranging from the cheapest trains and buses to the expensive taxis. Read on this Delhi public transportation guide to get more information about traveling in the capital city.
Buses
One of the cheapest modes of transport in Delhi consists of the local buses. Infact, the capital city boasts of one of the largest bus transport systems in India. Almost all the buses in Delhi are owned either by the State-owned Delhi Transport Corporation (DTC) or the private contractors. The bus fares are in denomination of 2, 5, 7 and 10 rupees. Quite some time back, the Government introduced environmentally friendly CNG buses in the city that have now completely taken over.
Taxis
Taxis are easily available in Delhi for hiring purposes. The taxis are mostly operated by DTC, the Indian Tourism Ministry and various private operators. They are available both for local commuting as well as long distance purposes. However, one has to go to the taxi stand or telephone a taxi service provider for hiring them. Also, taxis are a little expensive mode of transportation in Delhi.
Auto Rickshaws
Auto Rickshaws fall in between taxis and buses. They are more expensive than buses but cheaper then taxis. Also, they are easily available as they can be flagged from the road. However, one has to be careful while hiring autos. This is because most of the autos drivers refuse to ply by the meter. If this happens, one should bargain a little and fix fare in advance, before hiring the auto.
Delhi Metro
The local transportation of Delhi boasts of the relatively introduced Delhi Metro. Metro has still not reached all the parts of Delhi but it is under construction and some of the routes have been completed and are already operational. The fare of Metro is quite reasonable and the journey amounts to a pleasurable experience.
Local Trains
Local trains consist of one of the cheapest means and modes of transport in Dilli. Both inter-state as well as intra-state trains ply from various railway stations in Delhi. Commuting by trains is quite time saving. The major railway stations in the capital city are Old Delhi, Hazrat Nizamuddin, New Delhi, Okhla, Pragati Maidan, Shahdara, Shakur Basti and Tilak Bridge. There are numerous other small stations in Delhi for local commuting purposes
Rural Transport Vehicles (RTVs)
RTVs are like mini buses and ply on the local routes. However, they run on limited routes only.