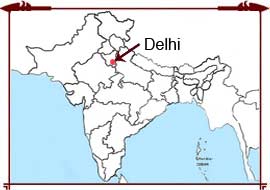 The National Capital Territory of Delhi is stretched over an area of 1483 sq km. As far as the location of Delhi is concerned, it stands in the middle of the Indian sub-continent, between the Himalayas and Aravallis range. Bordered by Haryana in the east and by Uttar Pradesh across the river Yamuna, Delhi is located approximately 213 to 305 m above the sea level. It is around 33 miles and 30 miles broad.
The location of Delhi is such that a major part of the city falls on the western side of the Yamuna River. Apart from Yamuna, which is the main river of the city, there are 3 canals, Agra Canal, Hindou Canal and western Yamuna Canal. Geography of Delhi has divided it into 3 segments. The three segments consist of the Yamuna flood plain, the Ridge and the Plain. The low lying and flood prone area of Yamuna flood plains is also known by the name of Khadar.
The area of the Ridge stretches from the Aravalli hills, encircling the city on the northwest and west. One of the highlights of the Ridge area is the Tughlaquabad Fort that stands at its highest point. The Plains or Bangar consist of all the area of Delhi, apart from the Yamuna flood plain and the Ridge. Majority of the city area, consisting of Delhi, New Delhi and Delhi cantonment, falls in the fertile land of the Plains.