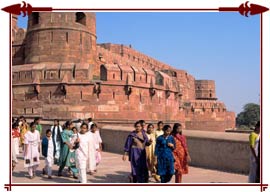 Delhi nearby places consists of some of the finest cities that the tourists will enjoy visiting. A trip to Delhi must include a visit to these cities, of which, if one boasts of splendid architectural beauty, the other has religious significance. For Ex, the city of Agra houses one of the wonders of the world "Taj Mahal", while Jaipur boasts of three magnificent forts, palaces, etc. At the same time, Mathura and Vrindavan are famous for some of the most revered temples of Lord Krishna. In the following lines, we tell you more about the popular tourist destinations around New Delhi…
Agra
The city of Agra is situated in the state of Uttar Pradesh, at a distance of approximately 204 km to the south of Delhi. One of the most famous tourist destinations in India, it is sited on the western banks of River Yamuna. The city of Agra in India dates back to the rule of Mughals and was founded by Badal Singh in the year 1475. Infact, it even served as their capital in 16th and early 17th centuries. It was during the reign of the Mughal Empire that the city was the most developed and acquired the magnificent monuments, it now boasts of.
Jaipur
The city of Jaipur is the capital of Rajasthan and is situated at a distance of approximately 260 km from Delhi. Literally meaning the city of victory, it is one of the three cities of the famous golden triangle of India. Jaipur, India is also known as the "Pink City" and was founded by Sawai jai Singh to overcome the problem of increasing population and scarcity of water in his original capital. He hired the services of a Bengali architect, Vidhyadhar Bhattacharya, who built it as per the Hindu treatise, Shilp Shastra.
Mathura
The city of Mathura is mainly famous as the birthplace of Lord Krishna. Situated on the western banks of river Yamuna, it lies at a distance of approximately 145 km southeast of Delhi and 58 km to the northwest of Agra. It is also known as the Brij Bhoomi and counts amongst the most revered pilgrimages in the country. Mathura, in India, was one of the Sapta Mahapuris (seven mega cities) that was ruled by the rulers of both the Solar as well as the Lunar dynasty, by turns. During that time only, it became the center of the three cultures, India, Indo-Scythian and Hellenstic.
Vrindavan
The holy city of Vrindavan is situated in the state of Uttar Pradesh, at a distance of approximately 130 km from Delhi and 15 km from Mathura. Just like Mathura, Vrindavan, in India, is also one of the holy places in India, dedicated to Lord Krishna. Infact, it is said he spent his youth here and never leaves Vrindavan (vrindavanam parityajya padam ekam na gacchati). The city, where Krishna performed his famous romantic and sportive roles, seems to be caught in a kind of time wrap. Read on this "Vrindavan City Guide" to explore this holy city further.