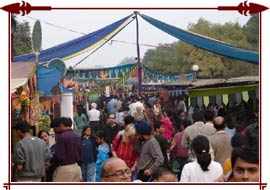 Dilli Haat, situated in the center of Delhi, is a kind of a weekly market, organized on a much grander scale. It is a permanent haat that offers an amalgamation of handicrafts, food and cultural activities. Dilli haat of Delhi, India is spread over an area of approximately 6 acres and has a typical traditional Indian village look to boast of. It is proud of its look that consists of a plaza paved with stone and brickwork and sprinkled with grass, flowering shrubs, eucalyptus trees, etc.
Shopping In Dilli Haat, Delhi, is full of an exotic variety of handicrafts and handlooms ranging from intricate woodcarvings to embellished camel hide footwear, to sophisticated fabric and drapery, to gems and beads to metal crafts, and so on. The handicrafts stalls at the haat are allocated on a 15-day rotational basis to craftsmen from different parts of the country. In this way, it is made sure that different handicrafts are available to visitors at each visit.
There is also an exhibition hall in the Dilli Haat complex, where handicrafts and handlooms shows are held regularly to promote them. You can also find different cuisines of India at the food plaza here. Right from North Indian to the South Indian to the Rajasthani, you will find almost every type of traditional Indian food here. Many people go to this place just to taste these mouth-watering delicacies. Also, a number of regional food festivals are held here.