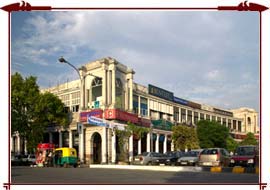 Connaught Place Market of Delhi, India has been officially named as the New Delhi Rajiv Chowk. However, even today almost every Delhiite calls it by the short form of CP. One of the oldest and most impressive markets of Delhi, CP is also its central business district. It is designed in two circles, inner circle and outer circle (Connaught Circus) and is based on Victorian architecture modeled after the Royal Crescent in Bath, England. A few months back, it seemed to be in kind of mess, with many streets being made one way and some closed for traffic.
This was all because of the Delhi Metro system that was being set up there. However, now, with the system in place and operational, all the mess has been cleared up. Now, the inner circle has even been beautified by the Delhi Metro Rail Corporation (DMRC). Eight separate roads lead out from Connaught Place inner circle and twelve from Connaught Circus, the outer circle. Such is the popularity and significance of Connaught Place Market of Delhi, India that it has become one of the major landmarks of the city. A trip to Delhi is incomplete without a visit to this shopping center.
There are hardly any stalls in Connaught Place. Throughout the circle, there are big as well as showrooms selling goods ranging from clothing to shoes to accessories. There isn't any brand name in Delhi that you will not find in Connaught Place. Right from Wills Lifestyle to Reebok to Levis, you will find all these retail outlets here. Shopping in CP, Delhi is a pleasurable experience, as you will find everything you want in one market only. Also, there are numerous eating joints in CP, right from roadside dhabas to swish restaurants, to satisfy your taste buds.