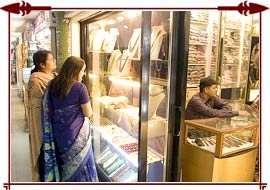 Palika bazaar, situated near the busy market of Connaught Place, is the only air-conditioned underground market of Delhi. It is the ideal place to go for shopping, especially when you are coming to the city in summers. There is no limit as to what you can get at the Palika Bazaar market, situated in the capital city of India. The market dates back to the 1970s and there are as many as 390 shops situated inside its complex.
Almost each and everything you can conceive of, right from footwear to clothing to nightwear to perfumes to accessories to electronic gadgets to DVDs and CDs, you will get in this massive market. Palika Bazaar is also the perfect place to buy curios and small knick knacks to take back home as souvenirs. The price charged for the products will be pretty reasonable, provided you know how to bargain with the shopkeepers.
Infact, the knack of bargaining is a must in the market, as the prices quoted here are definitely going to be high. There are a lot of eating corners also inside the market area. It is advisable that while going to Palika Bazar, you take along somebody who knows about all the ins and outs of the market or there are chances that you may get lost. Lately, due to the opening of a large number of shopping malls, the market is facing a decline in its popularity.