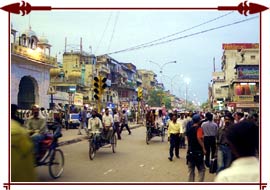 Jahanara, the favorite daughter of Shah Jahan, founded the famous Chandni Chowk of Delhi, India. The largest trading center of North India, it is also known by the name of moonlit square. There are a number of by-lanes in Chandni Chowk Market, each specializing in a particular field. For example, the parathewali gali is famous for it's delicious parathas, the textile lane for its textiles and so on. Some of these by-lanes are:
Katra Neel
Katra Neel is the cloth bazaar of Chandni Chowk of Delhi, India. Silk, satin, crepe, cotton, muslin, you will get almost every fabric of the world in this market.
Bhagirath Palace
Bhagirath Palace is supposed to be the largest electrical goods market in Asia. Apart from that, it is also famous medical equipments and allopathic medicines.
Kinari Bazaar
Kinari Bazaar is very famous for zari and zardozi work, of any and every kind. It can offer anything and everything that one may need for an Indian bridal trousseau.
Dariba Kalan
For silver jewelry shopping in Chandni Chowk, Dariba Kalan is the perfect place. Once a place full of gold and silver jewelers, it now specializes in silver jewelry.
Chhatta Chowk Bazaar
A covered bazaar, dating back to the 17th century, Chhatta Chowk Bazaar has around forty shops selling artificial and semi-precious jewelry, embroidered bags, hand painted wall hangings, fake antiques, etc
Chandni Chowk Market is also famous for the mouth-watering delicacies it offers. Given below is a list of the famous eating-places there: