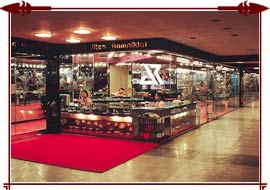 The Karol Bagh market is one of the oldest and the most famous and flourishing shopping centers in Delhi. The market offers variety, not only in the type of goods you buy, but also in the types of shops you visit. From the big air-conditioned showrooms to the small and dainty shops in alleys, you will find everything here. The whole of the market has been sub-divided into various roads, streets and markets, each specializing in a particular field. In the following lines, we tell you about these divisions in Karol Bagh of Delhi, India
Ajmal Khan Road
Ajmal Khan Road in Karol Bagh once specialized in inexpensive ready-made garments, cotton yarn and embroidered garments. However, now, this road boasts of big fancy stores, international labels, along with all kinds Indian munchies and masalas (spices) are available here.
Arya Samaj Road
It is one of the best places to buy second hand books in Delhi.
Bank Street
The Bank Street in Karol Bagh is known for its numerous Jewelry shops. These shops specialize in jewelry for the bridal trousseau.
Ghaffar Market
Shopping in Karol Bagh, Delhi is incomplete if you haven't been to the Ghaffar Market. There is not a single imported product in India that is not available here. From cosmetics to watches to cell phones to footwear, you will get anything and everything here.
Apart of these special items, you will find other items like furniture and furnishings, carpets and dhurries, tea, fashion accessories and a lot of other items in this excellent market.