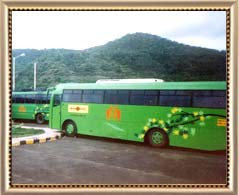 Ajanta Caves, one of the World Heritage Sites in Maharashtra, are situated near the city of Aurangabad. These caves boast of exquisite rock-cut architecture and are reminiscent of the time when Buddhism used to flourish in India. Ajanta caves are believed to date back to somewhere around 2nd century BC and are visited by a large number of tourists every year. It is obvious that they will require information on how to reach there. Keeping this in mind, we have provided this article with complete information on traveling to Ajanta Caves.
By Air
Aurangabad domestic airport lies closest to the Ajanta caves. It is approximately 100 km away and is serviced by direct flights from Delhi and Mumbai international airports. The Jalgaon Airport, which lies nearer to the caves, is still under construction. With its opening, reaching the caves will become much easier.
By Rail
The railway station that falls closest to Ajanta Caves is that of Jalgaon. It is situated at a distance of around 60 km from the caves and is serviced by almost all the super fast, express, mail and passenger trains, coming to this side. The station is well connected with Aurangabad, Mumbai and other major cities in and around Maharashtra.
By Road
Ajanta Caves have an excellent network of roads that connect them with most of the key cities in India. The roadways linking the caves with Mumbai, Pune, Ahmednagar, Jalgaon, Shirdi, Nasik, Dhule, Ahmedabad, Hyderabad, Indore, Bijapur, and Aurangabad are just excellent. Regular as well as direct buses and taxis are available between Aurangabad and Ajanta Caves.