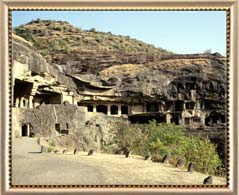 Duration -
09 Nights / 10 Days
Destinations Covered -
Mumbai - Nashik - Aurangabad - Pune - Lonavala
Day 01 - Arrival at Mumbai
You will be genially received by our representative upon your arrival at the Mumbai airport / railway station. He / she will accompany you to your hotel, where you check in and relax after the long tour. Have dinner and spend the night at the hotel in Mumbai.
Day 02 - Mumbai Sightseeing
After a delicious breakfast, you leave your hotel for a full day tour of the popular tourist places in Mumbai city. Mumbai, the financial capital of India and also home to the famous Bollywood film industry, is awake 24x7. There are many places of tourist interest here like the Gateway of India, Prince Charles Museum, Rajabai Clock Tower, Haji Ali's Mosque, Juhu Beach and so on. You return to your hotel room in the evening, relax, have dinner and go to sleep.
Day 03 Mumbai - Nashik (185 kms / 05 hrs)
In the morning, you will be driven down to Nasik which is among the principal growers of onions and grapes in India. You check in at the hotel upon arrival here and rest for sometime. During the second half of the day, you tour the Panchvati region where river holy river Godavari flows. The place is full of big and small temples all over. You return to your hotel and stay the night there.
Day 04 - Nashik - Aurangabad (218 kms / 05 hrs)
Today you reach Triambakeshwar temple located 28 kms away from Nashik. This temple is dedicated to Lord Shiva and is one of the 12 Jyotirlingas (i.e. Shiva Shrines) in the country. The most incredible characteristic of the Jyotirlinga situated here is that it has three faces embodying Lord Brahma, Lord Vishnu and Lord Shiva. After this, you drive down to Aurangabad, check in at a hotel and spend the night there.
Day 05 - Aurangabad Sightseeing
Sightseeing in Aurangabad today will comprise full day tour of the Ajanta and Ellora caves here. Ajanta comprises about 30 caves, whose paintings portray stories about Buddha. Ellora caves, on the other hand, total up to about 30 in number and are more splendid architecturally. These are rock-cut caves associated with religions - Hinduism, Buddhism and Jainism. Overnight is at the hotel in Aurangabad.
Day 06 - Aurangabad - Pune (214 kms/ 05 hrs)
The first half of the day will be spent sightseeing in the Aurangabad city. You can visit the Aurangzeb Tomb, Panchakki, Daulatabad Fort, Lonar and other such places. You can drive down to Pune city during the second half of the day, check in at the hotel, have dinner and spend the night there.
Day 07 - Pune Sightseeing
Pune gets its name from Punya Nagari or the city of virtuous deeds. After breakfast, you leave your hotel for a sightseeing tour of Pune today. Important tourist places on your travel itinerary will include Agha Khan Palace, Osho Commune Centre, Pataleshwar Cave Temple, Raja Kelkar Museum and Film And Television institute and other places. You return to your hotel in the evening and stay there overnight.
Day 08 - Pune - Lonavala
A sumptuous breakfast at the hotel will be followed by a drive down to Lonavala today. Enroute you halt for sometime to see the Bhaja Caves. Located near the Lonavala hill station, the Bhaja Caves are a group of 18 rock-cut caves dating back to 200 BC. Here, you will also see a group of 14 stupas (dome-shaped monuments housing Buddhist relics) - five inside and nine outside the caves. In the evening you arrive at Lonavala, check in the hotel and stay overnight.
Day 09 - Lonavala Sightseeing
After breakfast in the morning, your leave for an excursion to see the Karla Caves situated nearby. Karla Caves is a splendid example of Indian rock-cut architecture. It is actually a complex of cave shrines built by Buddhist monks in around 3rd to 2nd century B.C. and is located on a major trade route running from the Arabian Sea eastward into the Deccan. You return to your Lonavala hotel room by evening and stay there overnight.
Day 10 - Lonavala - Mumbai
You spend the morning exploring the scenic beauty of Lonavala hill station. You can see tourist hotspots like Ryewood Park, Christian Cemetery, Bushy dam, Duke's Nose and other places. During the second half, you drive down to Mumbai city from where you board your flight home or to your next destination.