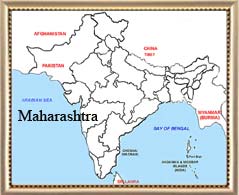 Location:
Western Part of India
Maharashtra is situated in the western part of India and covers the entire Deccan region. With an area of approximately 308,000 sq km (119,000 sq miles), it claims the distinction of being counted amongst the largest states of India. The state stands bounded by Chhattisgarh in the east, Madhya Pradesh in the north, Karnataka in the south, Goa in the southwest, Andhra Pradesh in the southeast and Gujarat in the northwest. Situated in between Maharashtra and Gujarat is the Union territory of Dadra and Nagar Haveli.
The mighty Arabian Sea makes up the west coast of Maharashtra. Running parallel to this coast are the Sahyadri Hills, also known as the Western Ghats, which rise upto the height of 1,200 meters (4,000 feet). To the east of the ghats lies the Deccan Plateau. On the other hand, the Konkan coastal plains are situated to their west and boast of a width of 50-80 kilometers. Western Ghats are one of the three watersheds of India and it is from here that most of the rivers in South India have found their origin.
Even Godavari River and Krishna River flow from there and go till the Bay of Bengal. A number of small rivers also originate from the ghats, and go towards west, ultimately emptying into the Arabian Sea. In the eastern side of the state, one can find the Vainganga, rushing towards the Bay of Bengal. The plateau of Maharashtra is made up of black basalt soil, which is quite rich in humus and is the best suited for cotton cultivation. Wait no more! Just come to Maharashtra and explore the state on your own.