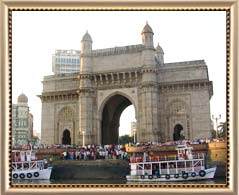 One of the most prized possessions of the country, the Gateway of India is situated on the waterfront in South Mumbai. Anyone coming to Mumbai from this harbor is greeted by the huge monument, which stands as a testimony to the imperial bygone era of the city. As you pass through the gate from the city side, the first scene that looms into view is that of the waterfront of South Mumbai. A popular harbor, it is used by a large number of people for traveling to the other parts of Bombay, especially the Elephanta Island.
The architecture of the Gateway of India comprises of a huge arch, which is approximately 26 m in height. The entire structure has been made by using yellow basalt and reinforced concrete. It has mainly been constructed as per the Indo-Saracenic style of architecture. One can also find the features of the Muslim architectural styles that were very much popular in Gujarat in the 16th century. The top of the monument stands adorned with a central dome, which has a diameter of 15 m.
The construction of the Gateway of India led to the displacement of the harbor and it had to be completely realigned. The monument was constructed in the early 20th century, at the astronomical price of 21 lakh rupees. The major burden of the cost was undertaken by the Government of India. However, even the 21 lakh rupees could not prove sufficient and the idea of constructing an approach road from the monument had to be discarded. The construction work of Gateway of India was undertaken by Gammon India Limited, established by J C Gammon.
History
The main idea behind the construction of the Gateway of India was to celebrate the visit of King George V and Queen Mary to Bombay. Sir George Sydenham Clarke, the then Governor of Bombay, laid down the foundation stone of the monument in March 1911. However, his plan was approved in 1914 and the reclamations at Apollo Bundar got completed in 1919. Designed by George Wittet, an architect, Gateway of India took approximately 4 years (1920 to 1924) to get fully completed.
First Major Event
The first major event that took place at the Gateway of India was the passing of the First Battalion of the Somerset Light Infantry. They were the last troops of the British to leave India after independence. The ceremony was conducted on 28th February 1948.