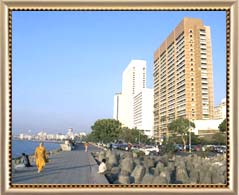 Nariman Point is the one of the significant business centers situated in the Mumbai city of India. Founded in the year 1940, Nariman point has become the one of the posh localities of Bombay, where one can find the offices of the leading business houses of India. In the year 1995, Nariman Point claimed the distinction of being the most expensive place in the world, in terms of commercial real estate rentals.
The price stood at somewhere around $175 per square foot ($1880 per sq m). Within a decade, the prices at Nariman point witnessed massive jumps and in 2006, they stood at around $450 per sq foot ($4800 per sq m). The area is situated on the extreme southern tip of the posh Marine Drive. The point where the center is presently situated had been reclaimed from the sea by Khursheed Framji Nariman, a Parsi visionary.
The place has been named after its founder only. Khurshid Nariman (a.k.a. Veer Nariman) was a Bombay Municipal Corporation corporator. He proposed the idea of reclaiming land from the sea and for the purpose, debris from various parts of Bombay was brought here and dumped. However, due to some reasons, Nariman was sacked midway. Thereafter, reclamations were carried out in the 1970s, which ultimately led to the development of Nariman Point.