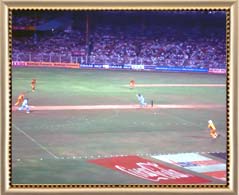 The most important sport in the entire Indian subcontinent is undoubtedly cricket and the same holds true for Mumbai also. In every park and every street of the city, one can find little boys as well as girls playing cricket. All of them have the same dream in their eyes - of becoming the next Sachin Tendulkar. Bombay is also home to two of the best cricket stadiums in the country, the Brabourne Stadium and the Wankhede Stadium. Both of them have served as the venue of some of the most outstanding Test Matches as well as One Day Internationals. They have been witness to a number of world records. Given below is more information on the stadiums of Mumbai.
Brabourne Stadium
Brabourne Stadium is one of the cricket grounds situated in Mumbai, the 'Commercial Capital of India'. The stadium, located near the Churchgate railway station, is under the ownership of the Cricket Club of India (CCI). It also houses the offices of BCCI, the Board of Control for Cricket in India. The land on which the stadium today stands was reclaimed from the sea.
Wankhede Stadium
Wankhede Stadium, owned by the Mumbai Cricket Association (MCA), is situated in the Churchgate area of the Bombay City. The story behind the establishment of the stadium is very interesting. Before the Wankhede Stadium was established, the cricket matches in Bombay used to take place at the Brabourne Stadium, owned by Cricket Club of India (CCI).