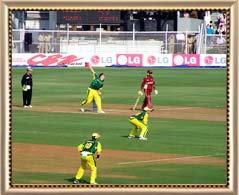 Brabourne Stadium is one of the cricket grounds situated in Mumbai, the 'Commercial Capital of India'. The stadium, located near the Churchgate railway station, is under the ownership of the Cricket Club of India (CCI). It also houses the office of BCCI, the Board of Control for Cricket in India. The land on which the stadium today stands was reclaimed from the sea. It was presented to the Cricket Club of India by Lord Brabourne, the Governor of Bombay, who also laid down the foundation stone of the Brabourne Stadium, on May 22, 1936.
The stadium was named, at the suggestion of the Maharaja of Patiala, after the Governor only. Sir Lawrence Roger Lumley, the Governor of Bombay, inaugurated it in December, 1937. Initially, the Brabourne Stadium was intended to comprise of pavilions, tennis courts and a swimming pool, along with a seating capacity of 35,000 people. The first match was played in the incomplete stadium, between CCI and the Spencer Cup XI, in October 1937. The first Test match in the stadium was played between India and West Indies in December, 1948.
The first One Day International (ODI) at the Brabourne Stadium took place between Australia and Pakistan in October, 1989. A dispute between Cricket Club of India (CCI) and Mumbai Cricket Association (MCA) resulted in the stadium ceasing to be a major venue for international matches. In all, seventeen international Test Matches have been played at the Brabourne Stadium. It has also served as the venue for sixteen Ranji Trophy finals, which were played from 1938 and 1973.
A number of notable innings have been played at the stadium, for example the 1944-45 one, in which Denis Compton scored 249 for Holkar. Not to be forgotten is the triple century scored by Ajit Wadekar against Chandrasekhar and Prasanna, in the 1966-67 season. It was here only that Sachin Tendulkar made the first double century of his career in 1997-98, against Australia. Brabourne Stadium was also the venue of the Davis Cup Asia-Oceania second round Group match between India and Pakistan in April 2006. It was one of the four stadiums where 2006 ICC Champions Trophy was hosted.