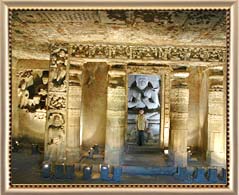 The amazing caves situated at Maharashtra showcase the age-old culture and rich legacy of the state. Some of these caves, like Elephanta Caves, Karkla Caves and Bhaja Caves, boast of stunning rock cut architecture. On the other hand, those at Ajanta and Ellora have been adorned with beautiful paintings. Whatever be the mode of presentation, these caves majorly illustrate the history of Buddhism in India. Most of the ancient caves in Maharashtra have been accorded the status of World Heritage Sites by UNESCO and continue to enchant visitors from the remote corners of the country as well as the world. Read on to know more about the popular caves of the state.
Ajanta Caves
Ajanta Caves are one of the most magnificent Buddhist caves in the whole of India. They are situated at a distance of approximately 100 km from Aurangabad and 40 km from Jalgaon. Counted amongst the UNESCO World Heritage Sites in Maharashtra, these caves have been found to date back to the 2nd century BC.
Ellora Caves
Ellora Caves are situated in Maharashtra, at a distance of approximately 30 km from the city of Aurangabad. Founded in the period between 5th century and 10th century AD, these caves were declared as one of the World Heritage Sites by UNESCO, a number of years back.
Elephanta Caves
Elephanta Caves are situated at the Elephanta Island, which lies at a distance of approximately 10 km from the Gateway of India. One of the major tourist attractions located near the 'Commercial Capital of India', these caves basically comprise of rock cut temples.
Kanheri Caves
Kanheri Caves, forming one of the most popular excursions from Mumbai, are situated inside the forests of the Sanjay Gandhi National Park of Maharashtra. They lie on the western outskirts of the city, to the north of Borivali. The name, 'Kanheri', has been derived from the Sanskrit word 'Krishnagiri'.
Pandu Lena
Pandu Lena caves are situated near the Nashik city of India, at a distance of only 8 km towards its south. They are one amongst the numerous Buddhist Caves built in the country during the flourishing days of the religion and are twenty four in number.
Bhaja Caves
Bhaja Caves are one of the popular Buddhist caves in India, which are situated in the Aurangabad District of Maharashtra. The caves, lying 60 km from Pune city, are believed to date back to as far back as the 2nd century, when the Theravadin phase of Buddhism was still in its earliest stages.
Karla Caves
Karla Caves are situated in the Aurangabad District of Maharashtra, quite near to the Bhaja Caves. They fall on the Pune-Mumbai Road and are approximately 40 km from the heart of Pune. The caves were carved somewhere around the 2nd century BC, the time when Buddhist was at its peak in India.