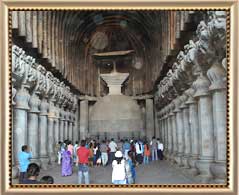 Karla Caves are situated in Karli, Pune, Maharashtra. Built into a rocky hillside, the karla cave complex is around 60 kilometres from Pune. The caves were carved somewhere around the 2nd century BC, the time when Buddhist was at its peak in India i.e. the Golden Age of Buddhism. One of the main structures situated inside Karla Caves is that of a Chaitya Hall (prayer hall of the Buddhists), which has been adorned with exquisitely carved sculptures.
Adding to the beauty and attraction of the Chaitya Hall are a number of pillars that have been built as per elegant architectural styles. Infact, it is the splendid and awe-inspiring structural design of the splendid Chaitya Hall that draws tourists as well as architecture students to the Karla Caves. The roof of the hall has been constructed out of teakwood and serves as the perfect proof of the excellent carving skills of the artisans of those times. There are a number of other chaitya halls inside the caves that have been beautifully carved.
The interiors of the caves have been ornamented with sculptures cut out of rocks, which have been carved to represent the shapes of animals and various other forms of human life. The stone stupa situated inside the Karla Caves is also counted amongst one of its major draws. Carved on the stupa are the figures of men, women and elephants. It has been placed under a stone umbrella. The caves have 37 pillars inside their complex that serve as the perfect decoration for the stone surroundings.
Chiseled on these pillars are figures of prosperous men and women, who are seated on elephants and are bowing before Lord Buddha. Since Karla Caves also used to serve as the residence of the monks, a number of viharas (dwelling places) with arched entrances and vaulted interiors can be seen inside them. Lord Buddha has been shown inside the caves only in symbolical forms and not in the form of images. The doorway of Karla Caves has been chiseled in such a way that it looks as if it has been made of wood. Whenever you visit Pune, make sure to see the Karla Caves and appreciate their magnificent architecture.