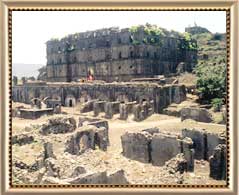 Janjira Fort is situated in the Murud town of Maharashtra. Infact, the Island Fort serves as one of the major attractions of the town. Murud served as the erstwhile capital of the Siddi rulers of Janjira in the earlier times. Today, Janjira is counted amongst the few sea forts of India and lies 2 km inside the town. The massive fort is bounded by walls that rise to a soaring height of 40 ft and being lashed by sea waves from all the sides, still retain their strength and grandeur. The fort has been attacked by a number of rulers during it's hey days.
Right from Shivaji to the Peshwas, no one could get successful in capturing it and it remained unconquered for close to 350 years. Even the Marathas, the British as well as the Portuguese were unsuccessful in annexing Murud Janjira Fort. The fort was not always as we see it today. It was initially a wooden structure, constructed by the fishermen of Murud, to serve as their protection from the pirates of the sea. Later, the wooden structure was demolished under the orders of Buran Khan, the minister of Nizamshah (the ruler of Ahmed Nagar).
In its place was laid down the foundation of one of the most impregnable forts of India, the Janjira Fort. Adorning the fort are a number of towers and turrets, which were basically used for the purpose of keeping huge guns that could be used on the attacking enemy forces. At one point of time in its past, the fort was home to over 500 canons, out of which only a few are left today. Amongst these are Kalal Bangadi, Chavari and Landa Kasam canons. The other structures in Janjira Fort worth watching are two huge water tanks, tombs, etc.
The main entrance door of the Janjira Fort has a stone carving, which depicts a single tiger that has been trapped by a six elephants. The sweet water lake see inside the premises of the fort has been there since the origin of the fort. The three burjs of the fort have a huge gun each, used for fighting the enemy. Apart from the Janjira Fort, Murud town is home to a number of attractions, including Padmadurg Fort, Shrine of Dattatreya, Janjira Caves, Palace of the Nawab, etc. So, when in Pune, make sure to make a sojourn at this splendid town.