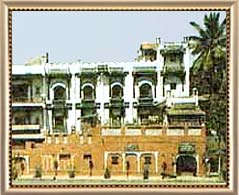 Raja Dinkar Kelkar Museum is one of the finest museums in the Pune city. It is situated in Shukawar Peth, on the Bajirao Road. The museum is now under the ownership and control of the Department of Archaeology, Government of Maharashtra. However, it was originally under the possession of Dr Dinkar G. Kelkar, who laid down its foundation in memory of Raja, his only son. Infact, the majority of the collection seen inside Raja Dinkar Kelkar Museum is the result of the efforts of Dr Dinkar only.
He built the assimilation slowly and gradually, devoting more than 40 years of his life towards it. His endeavor to start a museum started in the year 1920, when he started gathering artifacts to be displayed inside it. By the year 1960, Dr Dinkar had more than 15,000 items in his possession. After two years i.e. in 1962, he decided to hand over all of his collected works to the Department of Archaeology. With time, they added more items to his collection and today, the number of artifacts owned by them number more than 20,000.
Most of the items, that make up the collection of the Raja Dinkar Kelkar Museum, date back to somewhere between 18th and 19th century. At present, only 2500 items have been displayed for public viewing. Amongst them is a very impressive collection of musical instruments. One can also find an amazing compilation of Mughal antiques like instruments, lamps, paintings, etc. Raja Dinkar Kelkar Museum also boasts of an exquisite collection of nutcrackers, Ganpati's guns, carved palace doors, pottery, etc.
As you roam around the ground floor of the museum, you will come across household vessels made of terracotta, copper and brass. They were bought from Kerala, Gujarat and Maharashtra items, around the 18th and 19th century. The statues of Lord Ganesha, Lord Shiva and Goddess Parvati can be found gracing another floor of Raja Dinkar Kelkar Museum. The display collection of the museum also includes paintings depicting scenes from the Great Indian Epic Ramayana.
Last but not the least is the collection comprising of Armors made of fish scales and crocodile skin, pistols, long barreled muskets, daggers, shields, swords and small cannons, along with the betel boxes, lime containers and spittoons used by the Maharajas. One of the most magnificent structures inside the museum comprises of the recreation of the famous Mastani Mahal. Research and Storage facilities have been provided inside the premises of the museum. Institute of Musicology and Fine Arts can also be found inside the Raja Dinkar Kelkar Museum complex.