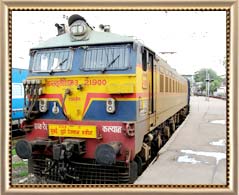 Pune, one of the metropolitan cities in India, is visited by tourists in large numbers every year. The city offers numerous tourist attractions to its visitors, right from the Aga Khan Place to Lal Mahal to the Shaniwar Wada. Apart from that, it also serves as the one of the bases for getting to Shirdi, the abode of Shri Sai Baba. In case, you are planning to visit Puna, it is better to get information on the various modes of traveling there - air, road, and rail. Through the following lines, we intend to acquaint you with the information on how to reach Pune city of Maharashtra.
By Air
Pune city has its own airport, which lies in the Lohagaon area. The airport is situated at a distance of approximately 10 km to the northeast of the city. It is serviced by almost all the public as well as private airlines of India. Pune has regular flights to all the key cities in India, like Delhi, Mumbai, Chennai, Hyderabad, etc. Infact, since quite sometime, you can even get direct flights from Pune to Dubai and Singapore.
By Rail
There is a railway station in Pune, making it easily accessible for those who are interested in reaching the city by train. A large number of express and super fast trains are available between Pune and the other major cities of the country. We have a number of trains, like Shatabdi Express, Deccan Queen, Indrayani Express, etc, which ply regularly between Pune and Mumbai.
By Road
Pune has an excellent network of roads that connects it with almost all the parts of India. The Mumbai-Pune Expressway has reduced the traveling distance between Mumbai and Pune to 3 hrs by road. You can easily get State Transport as well as private buses from traveling from Pune to various cities in Maharashtra and the neighboring states. Taxis are also easily available.