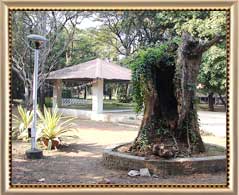 Empress Garden of Pune is situated near the Pune Race Course, adjacent to the Pune-Solapur Road. A huge garden in terms of area, it spreads over approximately 59 acres. The garden is more or less, a botanical park that boasts of being home to a number of varieties of fruit bearing trees, most of which are those of the tropical type of vegetation. The chief products of the garden are mangoes, tamarind, etc.
The other attractions of the Empress Garden of Pune comprise of its flower-laden tress and a small zoo. Empress Garden is also known as the Soldiers' Garden and is quite popular amongst the people of the city as a picnic spot. The land where the garden today stands was initially the property of a man known as Sardar Vithalrao Purandhare. However, its maintenance work was looked over by a General Finjer.
In the year 1838, the ownership of the garden passed into the hands of the Government. In 1845, it further changed hands and came into the possession of Sir Charles Napier. Throughout his ownership, the garden was known as the 'Garden of Dr. Don'. The name 'Empress Garden' was given to the botanical park in honor of Queen Victoria, when she won the title of 'Empress of India'. During the British Era, the garden was a favorite amongst British soldiers.
They came here for recreation purpose and with time, the garden got the name of 'Soldiers' Garden'. It was in the year 1892 that Empress Garden came under the possession and ownership of the Bombay Government. The Government then passed it on to the Agri-Horicultural society of Western India. Today, the garden is frequented by locals as well as tourists in large numbers. It provides them the much-needed peace and serenity that seems to have become lost in the mundane routine of city life.